TikTok
How to use the TikTok Ad Library to Kickstart Your Ad Campaign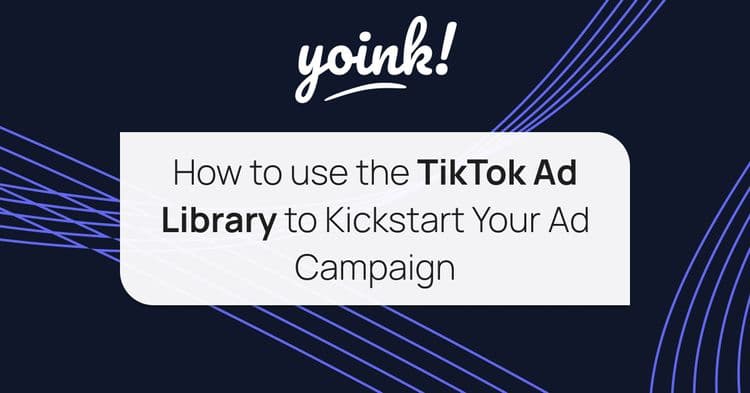 Are you tired of being a square peg in a round hole? Are you ready to break free from the monotony of traditional social media marketing and join the cool kids on TikTok? Look, we get it - change can be scary. But trust us, if you want to stay ahead of the game and not get left behind by the industry, you need to hop on the TikTok train. With its rapidly growing user base, projected to exceed 2 billion monthly active users, and unique features, TikTok offers endless possibilities for creative and engaging marketing campaigns. Aside from that, some marketers report costs and return on ad spend that beat Facebook Ads.
What is the TikTok Creative Center?
The TikTok creative center is a single place to view and filter top-performing TikTok content and advertisements. It's basically their answer to the Facebook ad library, hence why you'll see folks swapping back and forth between calling it a creative center and an ad library.
Why should I use the TikTok Creative Centre?
TikTok can be a tricky platform to navigate for marketers. It's like trying to solve a Rubik's cube, but instead of colors, you're working with the ever-changing algorithm, and instead of solving it once, you have to keep solving it over and over again.
Using their creative center you can stay on top of things, keep up to date on the top ad creatives in your industry, see what's trending and even use their custom video editor tools to build your own TikTok videos, with music included.
How to use the TikTok Creative Center?
Generally speaking, you'll want to have a vague idea of who your target audience and product is, if not, you've got bigger problems. The Creative Center is an ever-changing tool for an ever-changing platform, but as of writing this, there are 3 key sections.
Inspiration
This section is where you come for inspiration for your next TikTok ad campaign. You can filter through the "Top Ads" on TikTok, note that it doesn't cover all ads that are published and they're not clear why specific creatives make the cut and others don't. For example, this isn't a great tool for spying on your competitors' ads, unless they're huge spenders. Nevertheless, you can still view ads that someone in Tiktok thinks is great.
Filtering and Searching to Find Relevant Ads
This is how you go about finding ads that fit your needs, there's no needle in the haystack here, they're all primo ads that are categorized and searchable by vertical and region, among others:
Industry There are 21 core industries that TikTok allow you to filter through their library and countless subcategories within those industries. If your client or brand is in Beauty & Personal Care you should filter accordingly.
Country/Location You can narrow down the ad library by the country the creative is targeting. Naturally, you'll probably want to see ads in your own language. As of today, we can filter to all countries that TikTok is live in. Notably, you can't see Chinese creatives since that market uses Douyin instead of TikTok.
Objective In terms of objectives, you can filter by 6 primary objectives, App installs, Conversions, Lead Generation, Product sales, Reach, and Traffic. Using this filter will show you ads that run at different stages of a funnel, think, Top, Middle, and Bottom of the marketing funnel.
Likes This one does what it says on the tin, you can see ads that are more liked than others. Watch out, though. Just because a creative has more likes and engagement doesn't necessarily mean it's better than others, they could just have a bigger budget.
Duration Word on the street is that the best video length for a TikTok audience is between 10 - 15 seconds. This duration allows you to narrow in on just that and any longer videos too.
Last Time Period You can filter in by time range, too, looking at the last 7 days, 30 days, and 180 days. Remember, though, that the TikTok user is fickle, and just because an ad theme worked months ago doesn't mean it will work now.
Keyword and Search You can go crazy here and search for any keywords, brands, or products you'd like to see. They'll also prompt you with creative themes, like Black Friday and Valentine's Day.
Bonus Tip Don't just look at your industry, region, or competitors. Using the creative center is an opportunity for you to see what the best of the best do, and often times this is transferable across cultures and industries.
Saving TikTok Ads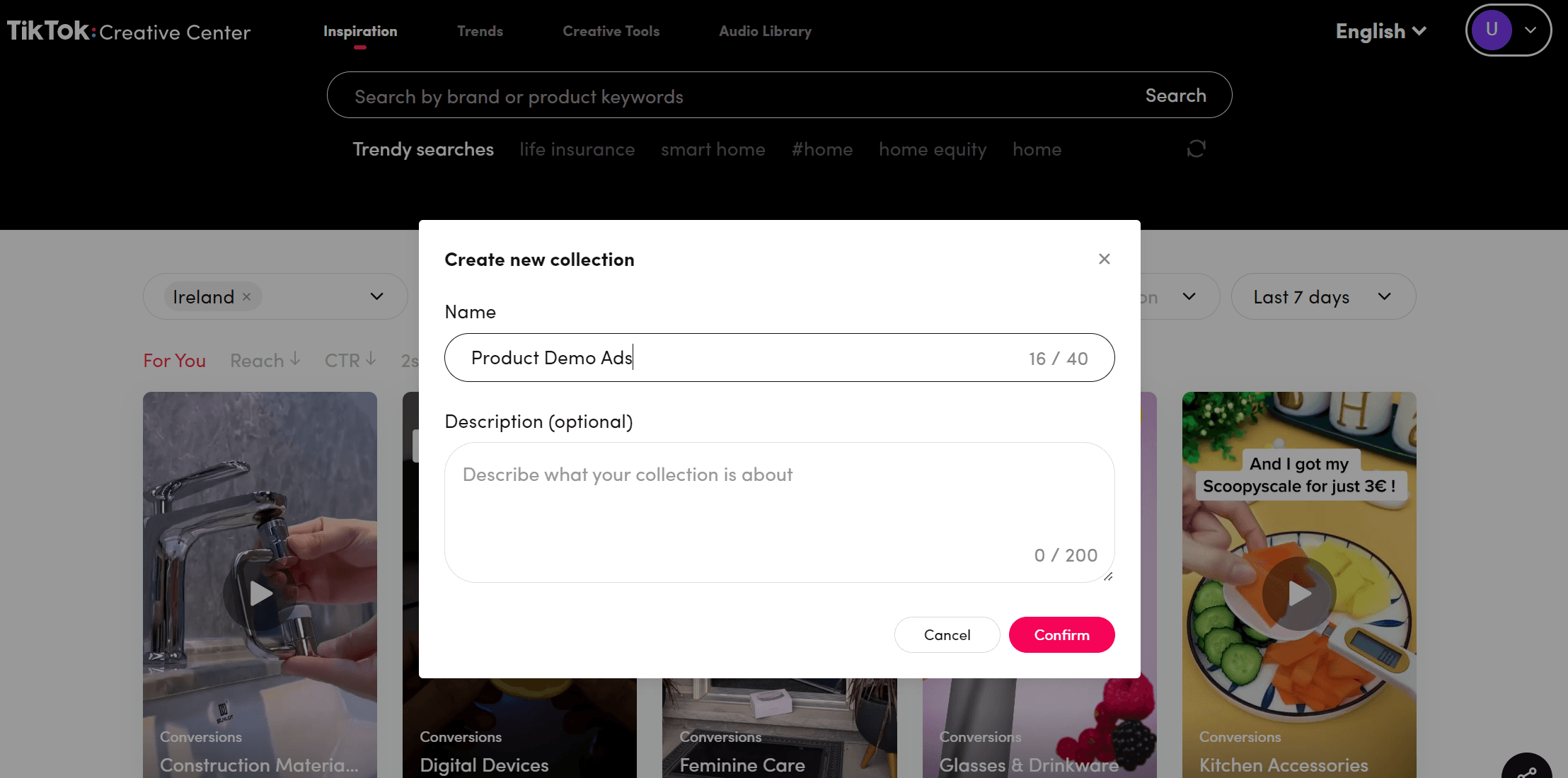 Come across an ad you like more than others, you can click the little star icon on the top right of the card to save it to a collection. You can also create multiple collections; you may want to categorize them by client or campaign.
Reviewing Top Performing Ad Metrics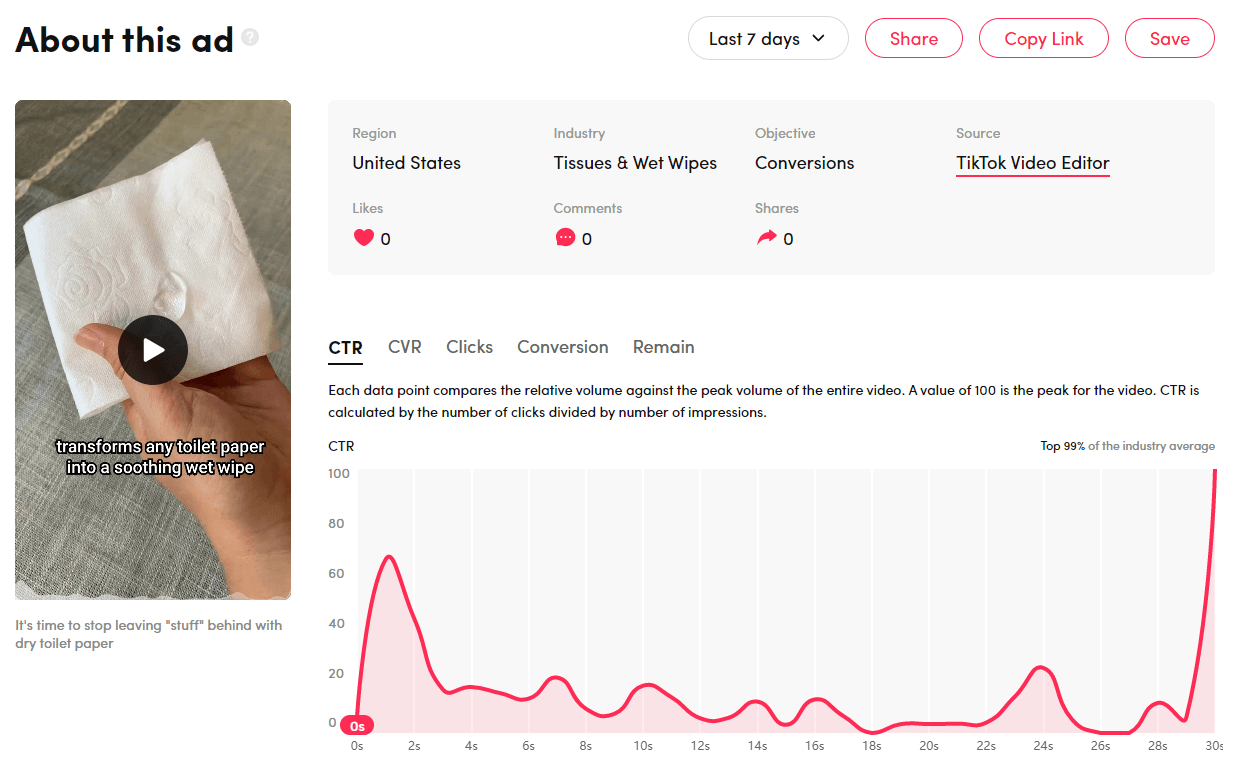 Once you've saved your favourites you can dive into the following metrics: CTR - click-through rate of the video, calculated by the number of clicks divided by the number of impressions. CVR - this is the conversion rate, showing how many conversions happen compared to the video view rate Clicks - showing when the most clicks on the creative happen Conversions - this breaks down which time in the video has the most conversions Remain - this shows how main views remain after each time period
Trends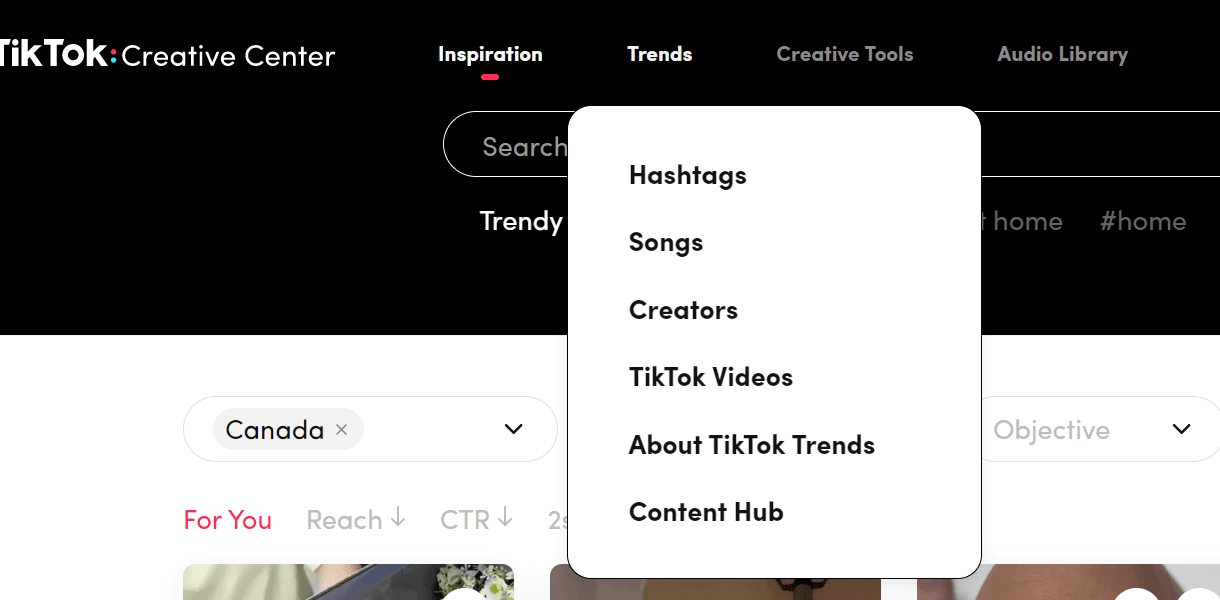 The trends section of the creative center is a great way to look at trending creatives outside of just auction ads. You can check out things like Hashtags, Songs, Creators, and Videos.
Creative Tools

The TikTok Creative Tools make video creative easier to make even for novices. It's a section of the creative library that is an entirely different beast outside this article's scope. We'll come back with a how-to on this topic soon.
Audio Library
TikTok trends are often driven by music, so it's a no-brainer that they would help you find the right audio and music for your creatives with their TikTok Audio Library. They're also all pre-cleared for publication on the platform so you don't need to worry about copyright or IP issues.
Summary
TikTok can be daunting to most marketers, especially those who know how challenging video creative can be. However, TikTok has done a great job with its ad library and creative center in bridging the gap and helping you get your campaigns off the ground. Now stop procrastinating and get out there and create your first TikTok ad!
Unlock your team's creative side.
Organize ads and help your creative marketing team work more efficiently. Get started today.