How to use Facebook Ad Library for Marketers - 2023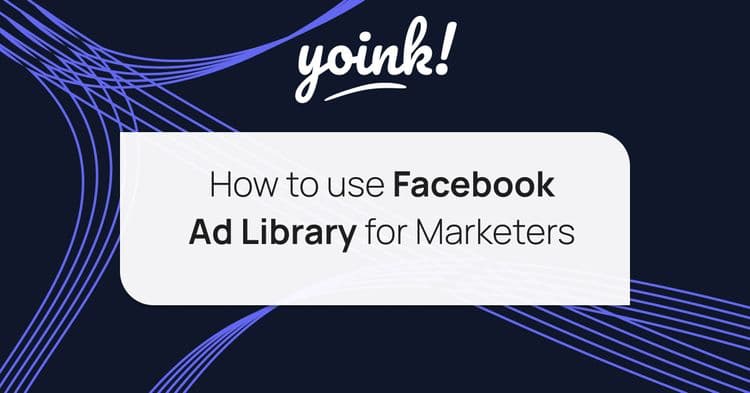 Table of Contents
How to find the Facebook Ad Library
Access the Ad Library via the Facebook Page:
Go directly to a company or competitor's Facebook page, navigate to the Page Transparency section further down and, from there, into the Ad Library.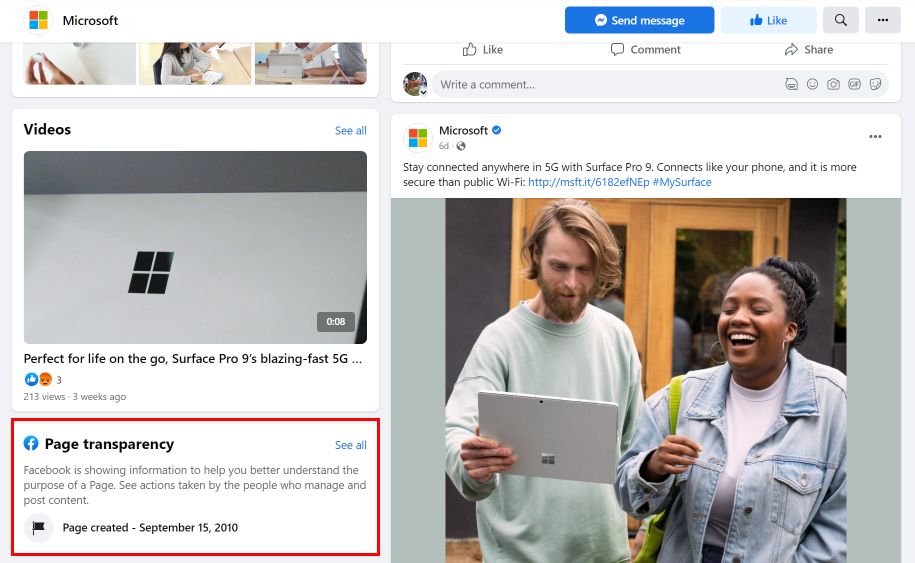 Search for Competitor Ads:
Go to the Facebook Ad Library page and use the search function to find ads from your competitors by typing in their company name or keywords related to their products or services. Before searching for the company, you'll need to set the location and Ad category. You can select from All Ads, Issues, elections or politics, Housing, Employment and Credit. When in doubt, your best bet is to choose all ads. While Facebook makes an effort to categorise them well, they often do not catch all creatives. Stick to All Ads.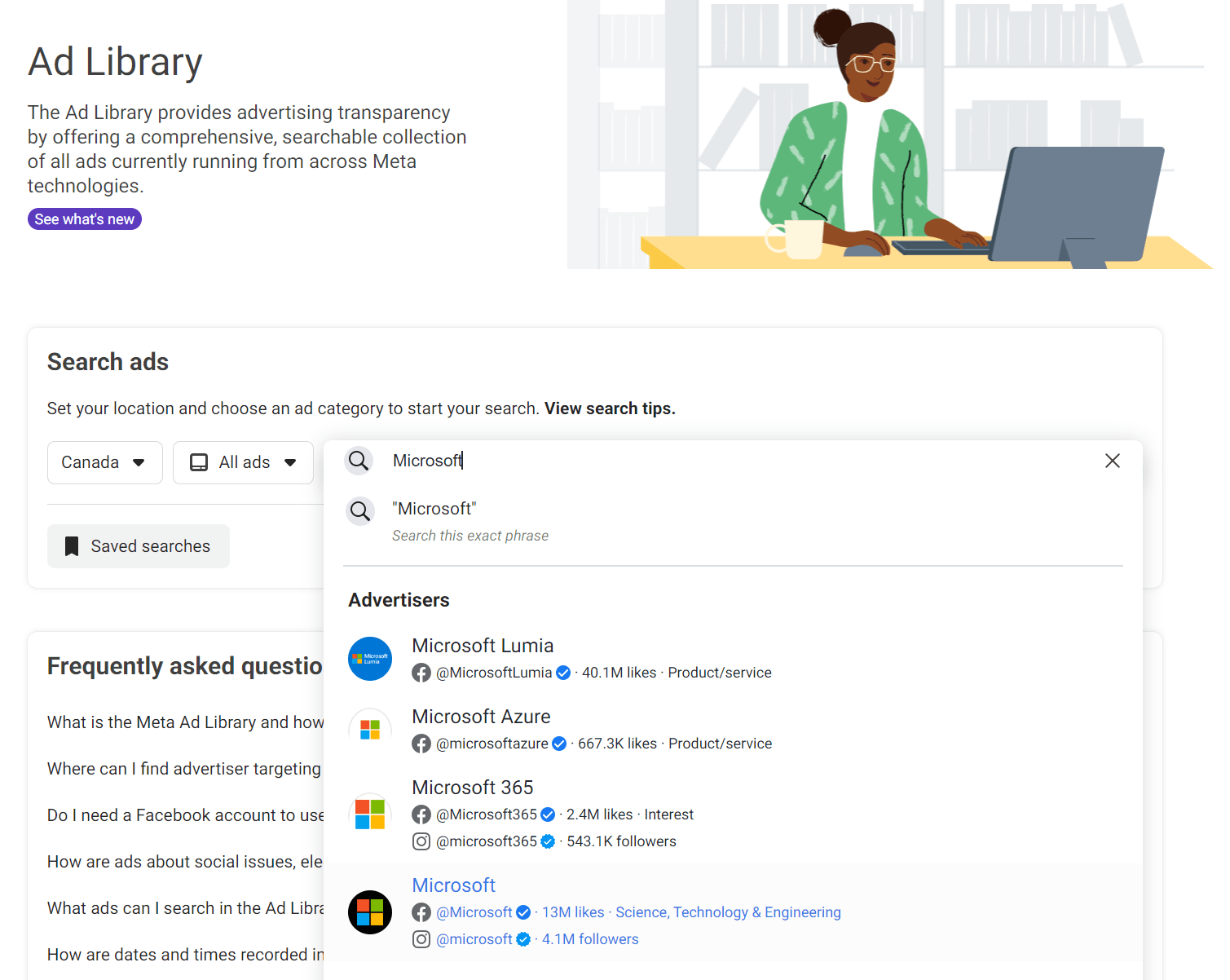 Filter Facebook Ad Library:
Take a close look at your competitors' ad creative and messaging. This will give you an idea of what they're trying to achieve and what they're focusing on. You can also see whether they're running these ads on other Meta platforms.
From a filtering point of view, you can filter by Language, Platform, Media Type, Active Status and Date. The majority of these filters are self-explanatory, but there are four that deserve a closer view.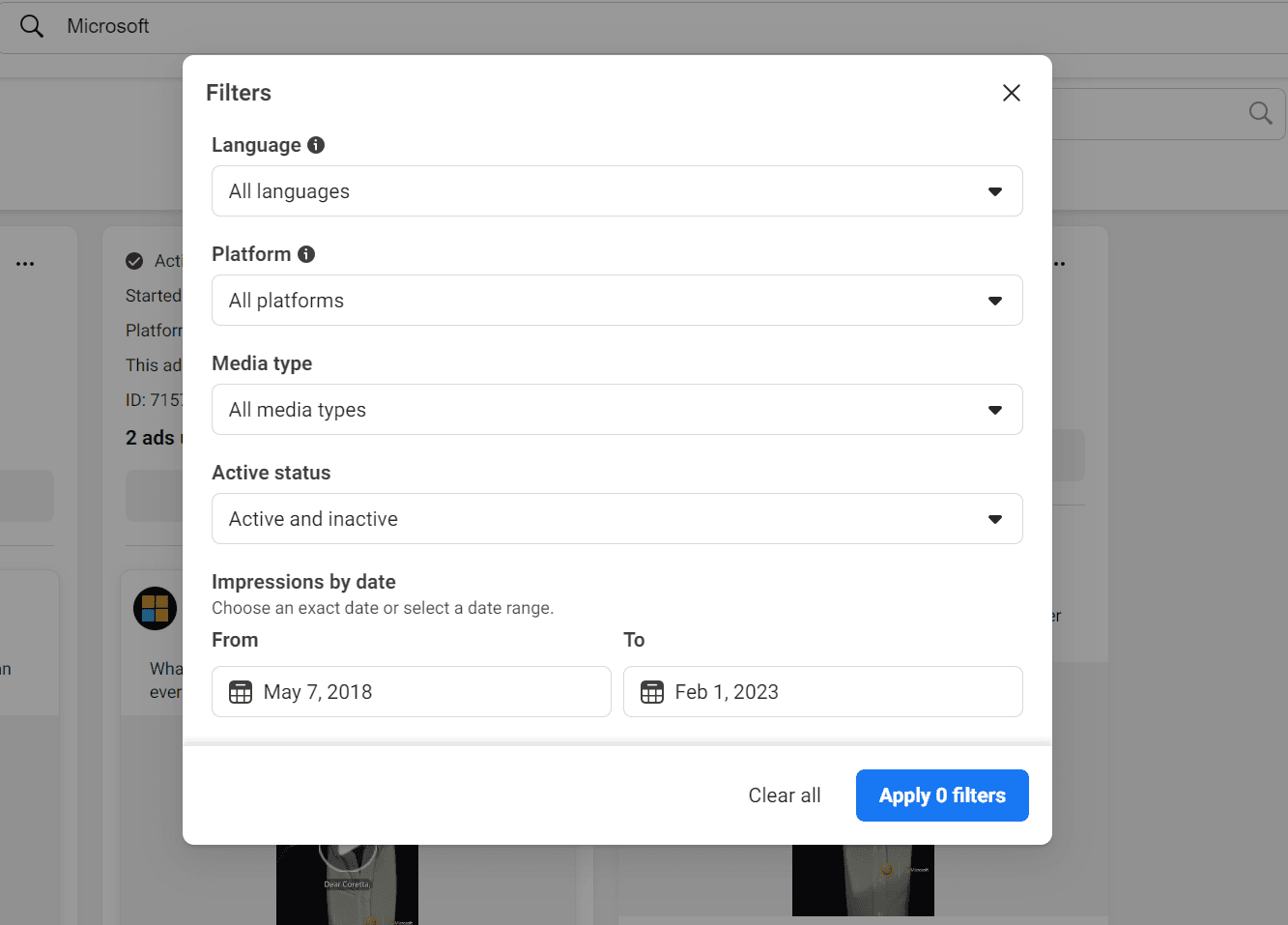 Keyword Search:
Use this to find exact words and phrases within creatives. This is a great way to discover competitors or companies that aren't on your radar. For example, searching for "car insurance" shows all those with related creatives. Combining this with a location allows you to see those in your target market. A pro tip, look at other geographies to see what those in the same industry elsewhere are using for their creatives.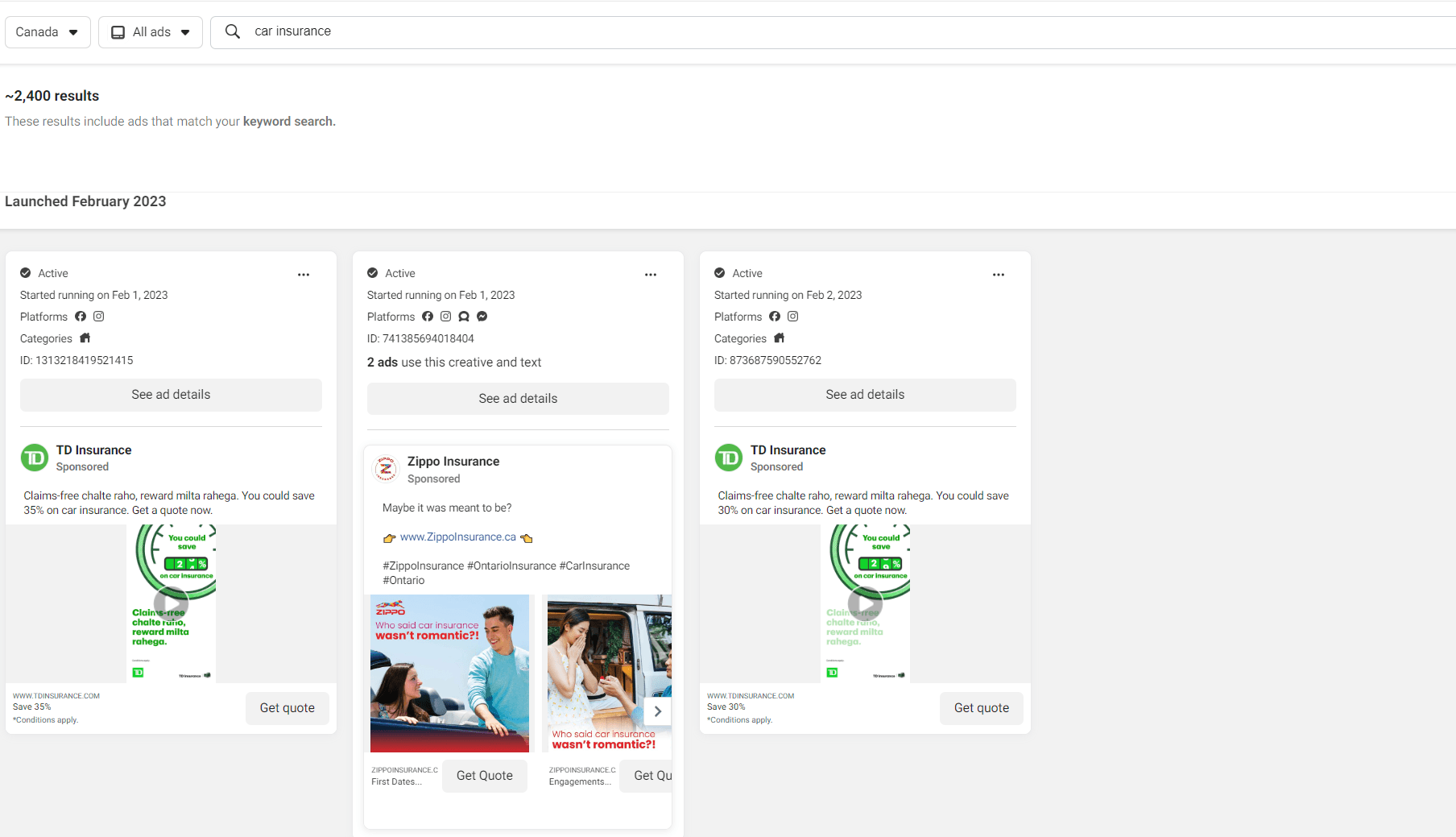 Platform Filter:
You can filter by Facebook, Instagram, Audience Network and Messenger. This filter will give you an idea of which platform your competitor finds most effective within Meta. Do you see they're using more Instagram-only ads? You can assume they've seen better performance there.
Media Type Filter:
You can filter by Images, Memes, Images and Memes, Videos, No Image or video. Again, as with the platform filter, you can assume that if your competitor skews towards one media type over another, they're seeing more success there.
Active Status:
Looking at the status of ads can also give you an insight on what works or doesn't work for your competitors. With an active ad, you can assume it's a creative that works well and resonates with the audience. Take this with a pinch of salt, as creatives often need to be refreshed to maintain performance on Facebook.
Bonus Ways to Analyze Facebook Library Ads
These methods will require you to be more scientific and structured. You'll need to create a well-organized swipe file. Potentially bringing in a spreadsheet if you're dealing with a large amount of ads.
Creative Themes and Messaging
Each creative you look at has a creative theme or message. When your competitor created the ad, they had a customer journey or emotion they intended to tap into. Are your competitors leaning heavily into reviews and social proof in their ads? Are they leaning towards FOMO or fear? Identifying the most common themes can help guide you in your Facebook ad strategy as you can assume they've learnt lessons and are implementing them.
UTM Parameters
Each ad on the Facebook library has a landing page URL. If the company you're looking at is running their campaigns well, within their ad URLs, they will have UTM parameters. Something like this: ?utm_source=facebook&utm_campaign=CON-PRO-AUTO_INSURANCE_VERTICAL-EN-CA&utm_content=Vertical-Auto_Insurance-Coverage
Looking at these UTM parameters, we can understand the competitor's campaign structure and target audience. For example, they have a campaign named "CON-PRO-AUTO_INSURANCE_VERTICAL-EN-CA" we can assume this means they have creatives that focus on the pros and cons of auto insurance, targeting English speakers in the Canadian market.
Landing Pages
Similarly to the UTM parameters that a creative has, the individual landing page URLs contain insights. Looking at how often a URL appears in your competitors' Facebook Ads can infer how important or unimportant a product or service is in your competitor's eyes.
Viewing Political Ads on Facebook
If you're in the political space and want to gain an understanding of a campaign's creatives, you can apply the same search functions as normal. However, you get to peek into the metrics of their performance.
Demographics:
Look at the demographics and interests of the people the political campaign targets with their ads. This will give you insights into their target audience and how they're trying to reach them.
Check Ad Performance:
The Ad Library provides data on the ad details, such as impressions, engagement rate, and cost per impression. Use this information to see what's working for your competitors' political campaigns and what's not.
Conclusion
The Facebook Ad Library is a valuable resource for any marketer or business seeking insights into their competitors' marketing strategies. By regularly monitoring the Ad Library, you can stay ahead of the competition and make data-driven decisions about your marketing approach.
Unlock your team's creative side.
Organize ads and help your creative marketing team work more efficiently. Get started today.