Copywriting
What is a Creative Strategist and How to Become One?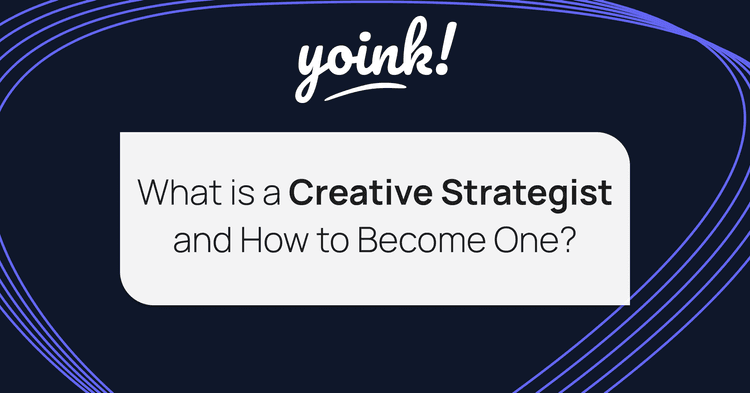 Table of Contents
What is a Creative Strategist?
A Creative Strategist is a marketing professional focusing on improving a company's overall marketing and advertising plans.
This role is essential in helping to bridge the gap between the:
Creative team, which focuses on developing compelling ad content and
Media team, which focuses on analytics, ad performance, and business goals.
What does a Creative Strategist do?
Creative Strategists are responsible for gathering data and insights to create ad iterations faster and more effectively. They must also be able to translate this data into meaningful, effective campaigns that will speak best to the company's target audience.
How to Become a Creative Strategist?
Believe it or not, many people who become creative strategists do so by accident…
For example, a community manager or advertising copywriter might move to a creative strategist position once they understand a company's goals, competitors, and target audience.
If you aren't in that kind of a position, freelancing is the next best place to start, as it allows you to build a portfolio that can prove your ability.
What are the Education Requirements for Becoming a Creative Strategist?
To become a creative strategist, employers typically require a bachelor's degree, with majors in digital media, communications, or marketing. This degree will allow people to develop core creative strategist skills in communication, creativity, and leadership.
What skills does a Creative Strategists need?
Overall, they will need to understand:
Content management systems
Keyword research tools,
Social media platforms,
Search engine optimization (SEO),
Search engine marketing (SEM),
Writing and copy editing,
Graphic design,
Branding,
Photography,
Media strategy,
Strategic planning, communications, and management.
Finally, while not always a requirement by employers, specialized online certificate programs in creative strategy, communications, and digital media can significantly improve a job application.
Creative Strategist Interview Tips
Before the interview, make sure to have a strong portfolio on hand that demonstrates design and problem-solving skills.
During the interview, make sure you articulate your visions and objectives clearly to show hiring managers you possess the skills and knowledge to get the job done.
Hiring managers look for charismatic candidates who think out of the box and always have the company's needs in mind.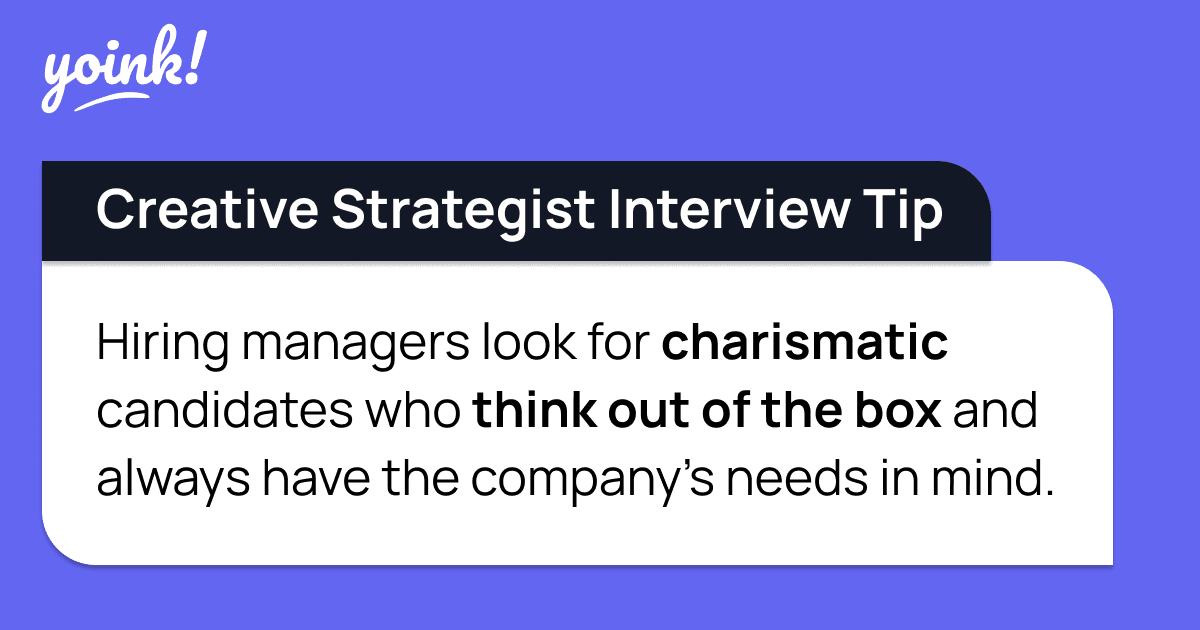 What Tasks does a Creative Strategist Perform?
The types of tasks vary company by company, but generally, roles and responsibilities include:
1. Understanding the Target Audience
Creative strategists must expose themselves to different cultures, people, and experiences. This might be achieved by reading books about their industry, attending talks, and listening to podcasts.
Exposure to different audiences helps to develop audience personas and identify how to engage best; customer goals vs. business goals, emotional vs. logical considerations, and creativity vs. efficiency.
2. Building a Brand Identity
This involves understanding the market, competitors, and developing a unique voice, style, and messaging for the brand.
A clear brand identity helps to differentiate a company from its competitors, attract/retain customers, and drive sales. Additionally, it helps to create a consistent customer experience across all channels and ensures that the brand is being presented in a unified, professional manner.
3. Analyzing Competitors' Campaigns
This includes creating a competitor analysis framework to understand what competitors charge and how they're pricing their services or products.
Additionally, people in this role must look at their competitors' campaigns' creative elements and objectives. For example, messaging and visuals used, how the ad was distributed, and how effectively it achieved the desired goals.
4. Creating Targeted Advertising Campaigns
This includes designing visuals, copywriting, and building video or audio advertising.
After producing the creative content, they must test and analyze it to ensure it reaches the intended audience and resonates with them. This could be completed through focus groups or surveys.
What Day to Day Tasks do Creative Strategists Complete?
Creative strategists perform a variety of daily tasks, including:
Examining market and industry reports,
Performing market research,
Hosting focus groups,
Meeting with clients to discuss their goals,
Coordinating goals with department heads,
Developing marketing strategies,
Creating documentation and project briefs,
Advising the creative director,
Monitoring media progress,
Identifying important trends
FAQ
How does a Creative Strategist use Data to Inform Their Work?
Gather Analytical Data: A creative strategist must understand their company's market, and one way to do this is by gathering analytical data. This can include sales data, market trends, customer reviews, competitor analysis, and more.
Analyze Data: The data gathered must be analyzed in order to make logical assessments. This allows the creative strategist to identify underserved markets or new approaches to existing markets.
Leverage Data Tools: Creative strategists use tools such as analytics platforms to help display data, so they can identify what works best to create high-performing ads that convert.
What Type of Environment do Creative Strategists Typically Work in?
Creative strategists typically work in a professional office environment, often in a larger company's marketing department or within a marketing agency.
They are expected to attend meetings and presentations while working on their computers to create and implement advertising campaigns.
Creative strategists must also be able to work collaboratively across teams to develop top-performing ads, drive creative decision-making, and grow revenue for accounts.
What are the Benefits of Becoming a Creative Strategist?
The benefits are vast as it involves a high-impact position in paid social media. It allows you to use the art and science of strategy to eliminate guesswork and improve ad results.
As the creative strategist, you are the leader and thinker that sets the overall strategy and creative direction. You can work across teams to create top-performing ads and grow revenue.
You can bridge the gap between designer and media buyer to create effective client ads. Additionally, you can develop and test strategies to reach target audiences creatively and cost-effectively.
Content Strategist vs Creative Strategist - What is the Difference?
A content strategist identifies topics and themes for content creation, builds a content calendar, and decides the channels and platforms for distribution.
A creative strategist assists in the development of visuals for ad campaigns, identifies the messaging, and determines the most effective channels and platforms for delivering the message.
Unlock your team's creative side.
Organize ads and help your creative marketing team work more efficiently. Get started today.