LinkedIn
Is There a LinkedIn Ad Library?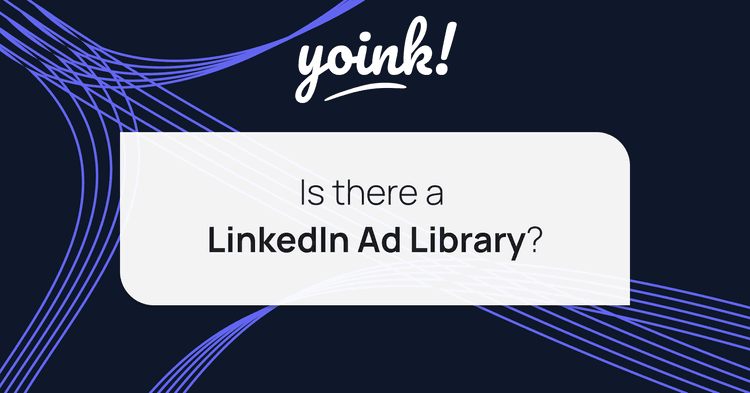 Introduction
Is there an ad library for LinkedIn? Yes, you can view all company ads directly on its LinkedIn page. As well as providing transparency, this library of LinkedIn ad examples allows you to recognize patterns, compare ad performance, identify target demographics, detect new opportunities, and improve your ad messaging and design.
So, read on if you want to learn how to see competitors' LinkedIn ads to understand better how they are positioning themselves in the market, the messaging they employ, and the audiences they aim to reach.
Table of Contents
Introducing the LinkedIn Ads Library
Suppose you're a creative strategist seeking ways to research LinkedIn ad campaigns. In that case, you may have been using third-party tools with inconsistent data or scrolling the LinkedIn news feed to find ad inspiration. Fortunately for you, LinkedIn publishes every advertiser's carousel, video, single image ad, and more in the posts section of a company page.
How to see competitor's Linkedin ads
Step 1: Search and click "view page" on the competitor whose ads you want to see.

Step 2: Click "Posts" on the company page to go to the posts feed.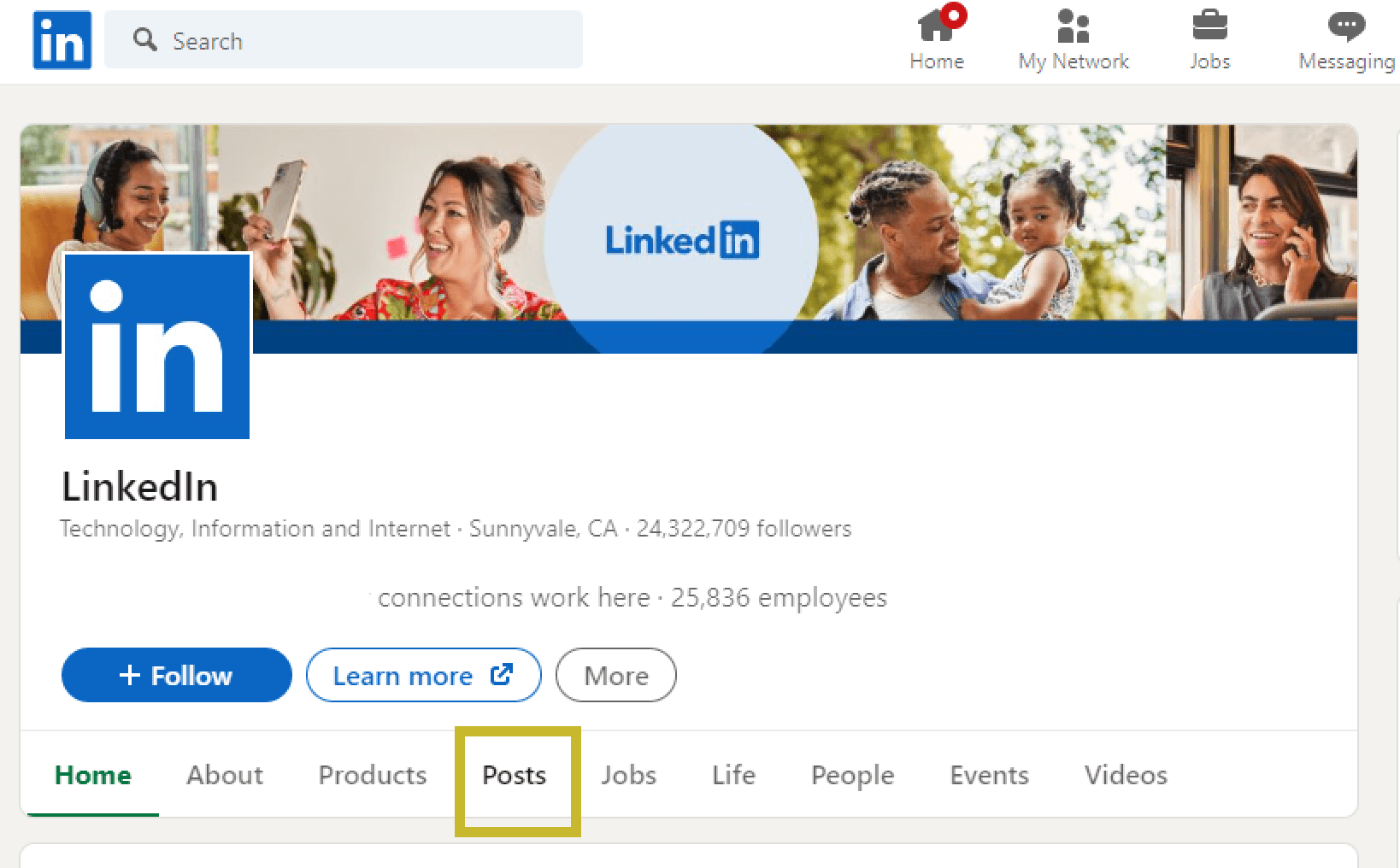 Step 3: Change the filter to "Ads" to see all current ads run by this company.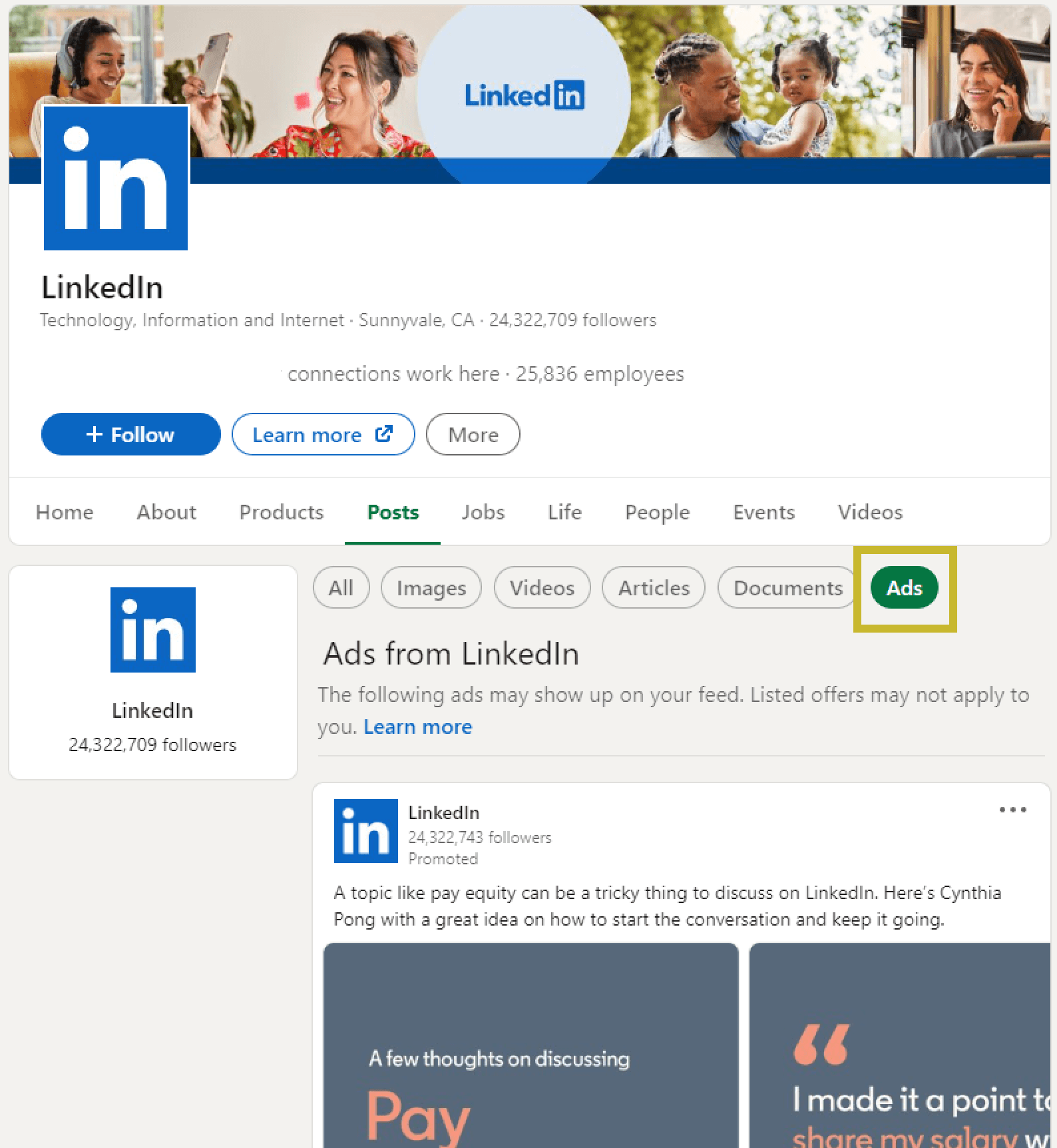 Made it this far and still asking yourself what a LinkedIn ad looks like? Each LinkedIn post from a company will include its logo in the top left corner. Beside the logo is the company name. Underneath the company name and follower count, you will see a little "promoted," indicating that the post is part of a paid campaign.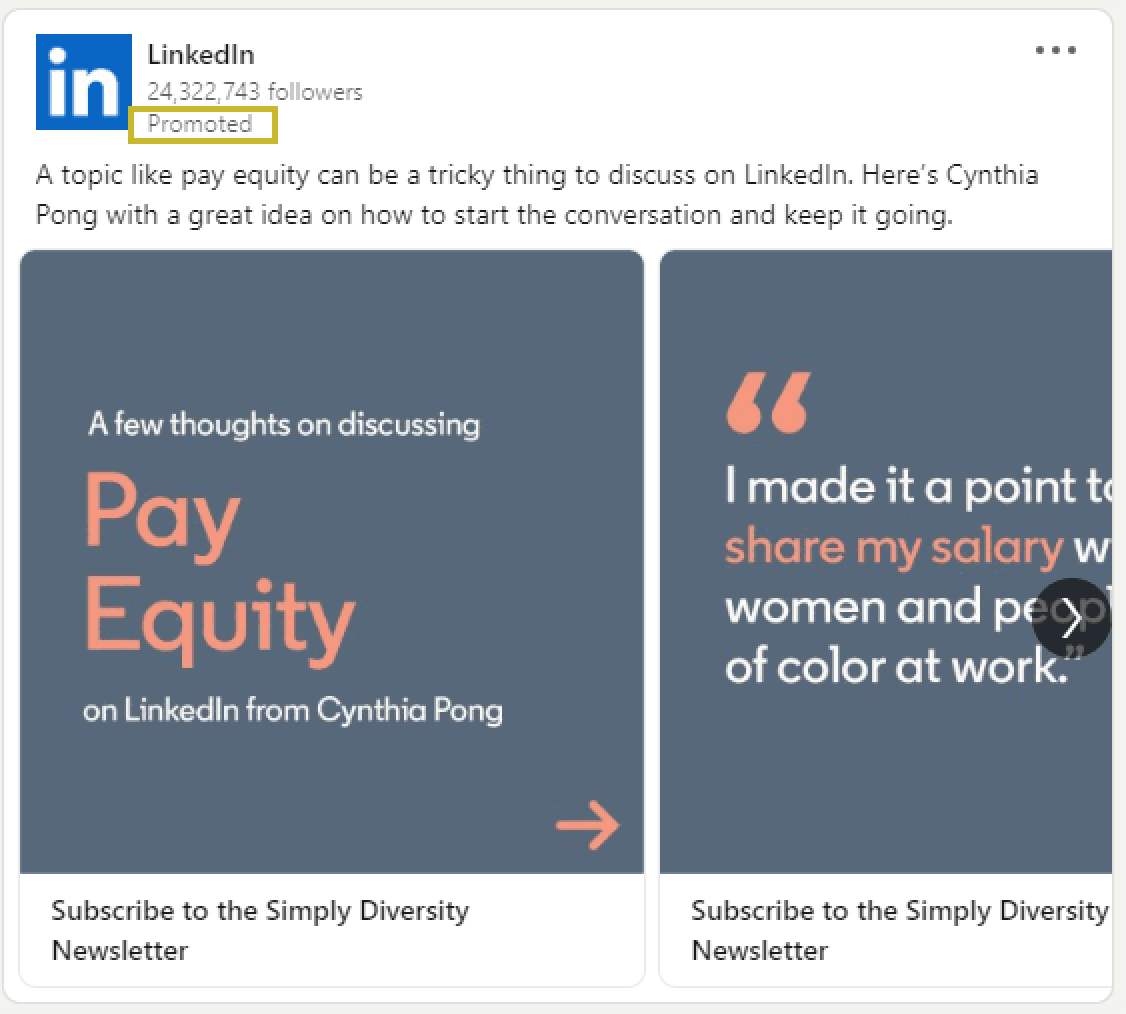 LinkedIn Ad Library Uses
The LinkedIn Ad library has many uses, the primary being to view and search for current ads on LinkedIn for content inspiration. However, there is even more value when you start analyzing post by post. For example, looking into ads allows you to guess the following:
How invested competitors are with LinkedIn ads.
How many campaigns they run.
What types of ads they run most - Single image, carousel, video. (This could indicate which format they find most effective.)
What they're A/B testing.
What their best-converting landing pages look like.
What UTM parameters do they follow.
What post length works best for them.
What makes an effective LinkedIn ad?
There is no one true answer to this question, as ads must be tested and optimized for your audience before you can call something effective or not. With that in mind, there are a few general practices you can follow to try and create the most effective LinkedIn ad possible:
Use a clear, attention-grabbing headline highlighting your product's or service's main benefit or value proposition.
Include a high-quality image or video that effectively communicates the message and grabs the viewer's attention.
Make sure your copy is well-written and compelling and sounds your product's or service's unique selling points, along with a clear call to action.
Develop targeting options that enable you to reach an audience that closely resembles the persona you are trying to target.
Set up targets that you can use to track the performance of your ad, such as clicks to a landing page or a specific promotional code.
Create alternative versions of your ads so you can A/B test differences. Regular testing and optimizing ad creative and targeting options will improve performance, ultimately making your ad more effective.
What is the best size for a LinkedIn ad?
At the time of writing, documents with a square aspect ratio perform well across all industries on LinkedIn. However, it is important to consider all recommended LinkedIn ad specs when creating effective campaigns. LinkedIn recommended size for each Linkedin ad format is below.
Single Image: 1200 x 627 pixels.
Document: choose from vertical, horizontal, or square aspect ratio.
Carousel: 1080 x 1080 pixels
Inmail: 300 x 250 pixels
Video: MP4 supported
Text: 100 x 100 pixels
Make sure you use the LinkedIn ad library to assist in refining your next marketing campaign to stay ahead of the competition.
Unlock your team's creative side.
Organize ads and help your creative marketing team work more efficiently. Get started today.