How Ryanair set the standard for TikTok videos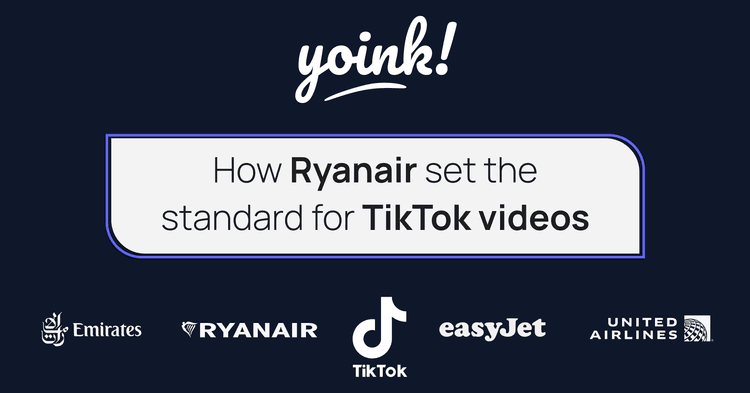 How Ryanair set the standard for airline advertising on TikTok
To help you navigate the internet's most trending app, we've compared four different airlines' organic TikTok content to understand how Ryanair continues to grow its following.
Ryanair TikTok Style
Since TikTok's rise in popularity in 2019, the app has become a valuable marketing tool for many brands. Yet few have grasped the attention of the app's gen-z demographic like Irish airline Ryanair. Where other brands remain corporate and product-focused, Ryanair's marketing team has created a TikTok account that remains incredibly informal, as though it were just another internet meme account.
TikTok's short video format demands an immediate hook to hold viewers' attention. Ryanair's TikTok posts are easily recognizable due to the consistent use of a filter that personifies their 737 aircraft with the facial features of two eyes and a mouth. This sentient plane posts roughly three times a week, with videos that twist current trends to be more airplane centered. The perfect example of this content style is their most viewed video that depicts an airplane lusting over actor and teen heartthrob Timotheé Chalamet.
https://www.tiktok.com/@ryanair/video/7096865604266708230?is_from_webapp=1&sender_device=pc&web_id=7145231755955209733
Ryanair TikTok Marketing Success
The budget airline has a reputation of being very low quality, yet they remain in high demand due to their competitive pricing. Ryanair comedically leans into this reputation with the self-deprecating tone of their videos, often going as far as making fun of their own customers.
https://www.tiktok.com/@ryanair/video/7138071334243831046?is_from_webapp=1&sender_device=pc&web_id=7145231755955209733
Ryanair's TikTok is well received as they have amassed over 20.3 million likes, and their comment sections are often filled with reviews such as 'Ryanair best Airline on TikTok!!' The comment section has proved to be an equally effective form of communication as customers directly discuss with the person running the account as comments such as 'Whoever runs this account deserves a raise' are pinned by the admin. Humanising the person behind the account allows for maximum engagement as viewers feel as though they are simply doing a favor for a friend by engaging with the content, which proceeds to further the promotion of the brand.
United Airlines
The US-based budget airline United has also joined the social media platform in hopes of gaining media attention. Although they have not amassed the same popularity as Ryanair, United still holds 4 million likes. This can be majorly credited to a celebrity collaboration with former Disney stars Aly and AJ.
Although United has dropped its corporate tone, they continue to promote the brand in a positive light with the help of trending audios. Unlike Ryanair, they have yet to post any responses to the frequent criticisms or scandals that the company faces. TikTok's audience cannot see past United as a brand and therefore are less likely to interact with the impersonal account.
https://www.tiktok.com/@united/video/7142969657287331114?is_from_webapp=1&sender_device=pc&web_id=7145231755955209733
EasyJet
Swiss airline EasyJet has also taken to TikTok, currently boasting 1.6 million likes. Despite partaking in current trends, EasyJet hasn't perfected the casual and almost 'effortless' style of video received well online. The timelapse video below displays how nice an EasyJet take-off is, yet many comments were critical of how long the plane spent taxiing on the runway. If EasyJet had instead made a self-aware joke about their continuous delays, the video might have been received better by their audience.
https://www.tiktok.com/@easyjet/video/7138314371977022726?is_from_webapp=1&sender_device=pc&web_id=7145231755955209733
Emirates
The luxury airline Emirates holds only 10.9 thousand likes in total. The brand maintains its luxury image with very polished content that rarely follows current trends. This content is not comedic or relatable and does not engage TikTok's users. Their videos aren't necessarily bad, but they don't cater to the broader TikTok audience in the same way that the budget airlines do.
https://www.tiktok.com/@emirates/video/7138373022980836609?is_from_webapp=1&sender_device=pc&web_id=7145231755955209733
TikTok thrives on creators being candid and, at times, oversharing. For brands trying to gain a following, displaying a carefully curated feed has proven not to engage those who use the app. If you feel the platform is the right place to promote your business, lower all your preconceived standards of professionalism when creating for TikTok.
Unlock your team's creative side.
Organize ads and help your creative marketing team work more efficiently. Get started today.