Top 11 Facebook Real Estate Ad Examples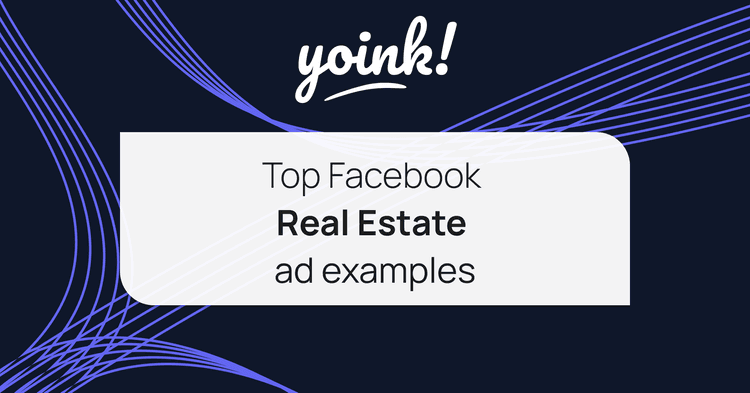 Are you a real estate agent who's spent a fortune on listing site ads? Or do you work in a marketing agency and just landed your first real estate client? Whatever your scenario, rest easy, we've got you covered.
The real estate market is moving more and more online by the day, with over 97% of homebuyers starting their home search online. Combine this with the fact that up to 82% of the population is on Facebook and you have a perfect storm for real estate lead generation.
Facebook previously offered a vast amount of ways to target high-quality home buyers. From using zip codes to narrowing in on demographics and interests, you were sure to get in front of your target audience.
Nowadays, Facebook has put housing or real estate ads into their special ad category, removing some of these more powerful targeting options.
Don't worry, Facebook is still the place to get great leads. But to stand out from the crowd of real estate agents you'll need to create impactful ad campaigns with clear calls to action and exceptional creatives.
This is where the team at Yoink comes in, we've scoured Facebook and compiled some of the real estate businesses' best ads, so let's dive in!
Zillow
Well-known in the US, the real estate platform Zillow brings buyers and sellers together in one place. In this Facebook ad, thanks to the help of a staging company, they've used strong, colorful imagery to stand out in the feed of their potential clients. This ad was running in early Autumn, using deep orange colours and copy that references pumpkin spice lattes they're striking a tone that matches the coming season. This is a particularly relevant ad to their target audience of young buyers.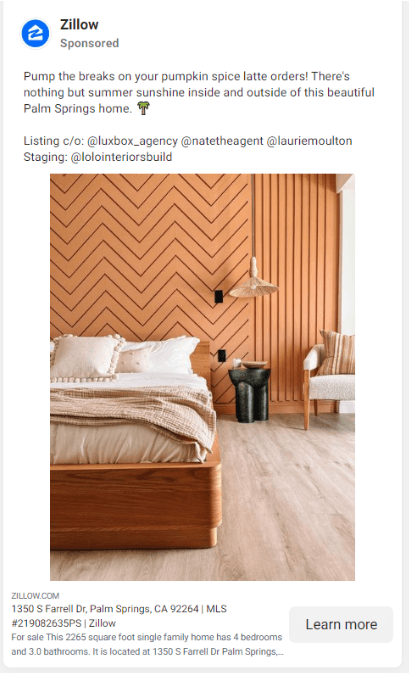 Concord Pacific
Rather than relying on listed ads, pre-build property developments more often than not lean on real estate Facebook ads. Concord Pacific does an excellent job of showcasing amenities that appeal to entirely different buyer audiences. One half of the image displays an entertainment room with a pool table, while the other half shows a piano lounge. The call to action here is to register for more information, they're building their email list for later in the development process.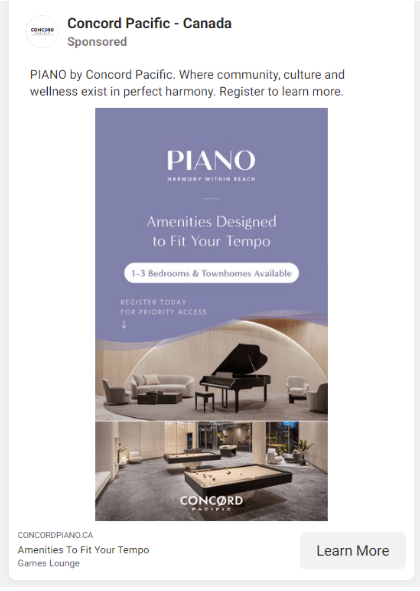 Realtor.ca
It's not all about driving leads immediately, in industries like real estate, sometimes you need to play the long game. Realtor.ca is doing just that, providing its target audience with content that helps them navigate the confusing process of buying or financing a home. When the time comes to buy or sell, the client will view you as a source of trusted advice rather than just a salesy realtor.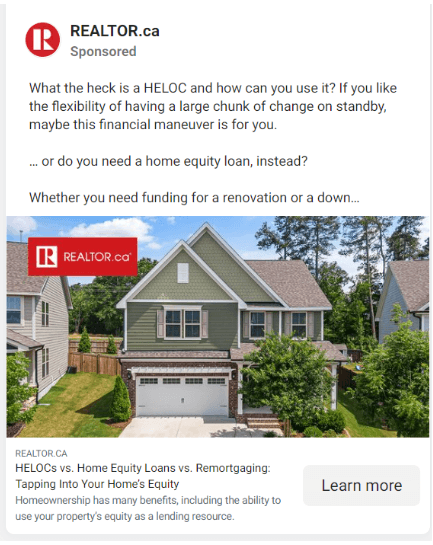 Redfin.com
Looking more at lower funnel customers, Redfin is offering a clear call to action for the user - tour this home in your area today. They use a call to action button of "Book Now", while also displaying the exact asking price. Meaning that any lead that comes through this ad is a high-intent, warm prospect, well aware of the offer.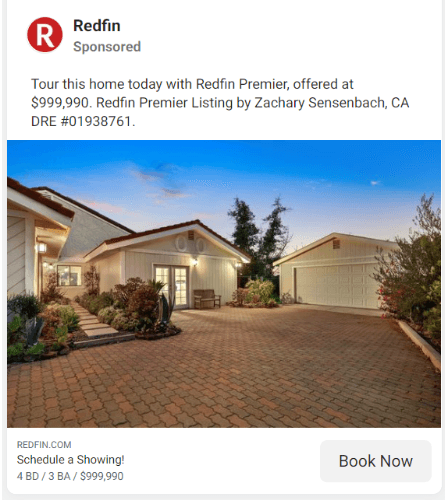 Flyhomes.com
Flyhomes is another property technology company bringing buyers and sellers together on their platform. While a lot of targeting options are no longer available for real estate ads, one of those that is still allowed is targeting by the language of the user. Flyhomes are using Facebook to get in front of Mandarin speakers in the US, hitting a very specific audience with extremely relevant ad creative.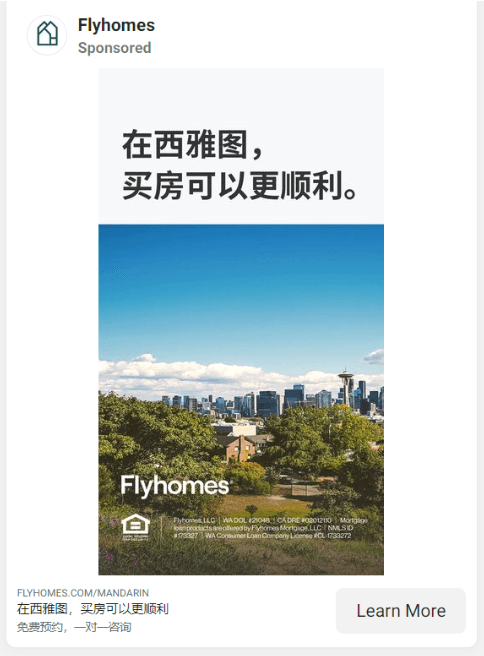 Story of Home
This London based real estate agent uses video with beautiful imagery and a clear, simple caption. All in an effort to get users to engage with their content and request a free valuation of their property. Remember, every seller is likely to be a buyer, the value of a seller lead is in theory twice as much as that of a buyer lead.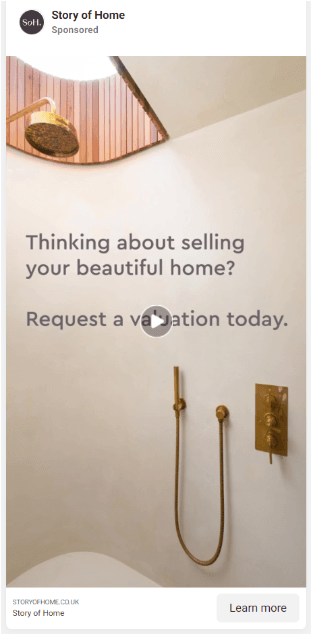 Curv
Facebook advertising for real estate isn't just for use by real estate agents. Pre-build real development projects like Curv can also use Facebook to build a strong email list of prospective buyers to nurture at a later point in the property development cycle.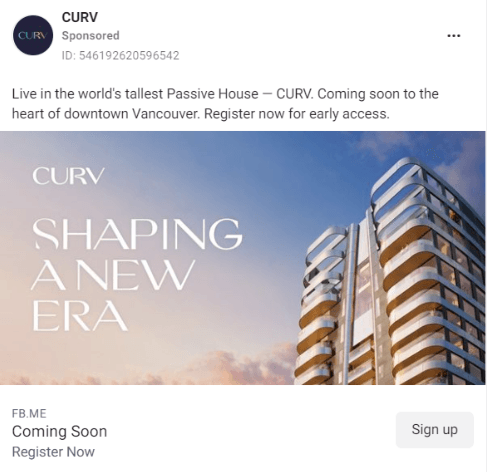 Point 2 Canada
One of the key things Facebook wants to see in the ads and content on their social media platform is engagement. If your ads work towards driving engaged users you can be sure to see lower cost of acquisition and larger audiences. Point 2 Canada, a real estate listing website, encourages users to comment on their video ad by picking which property they would like to own most.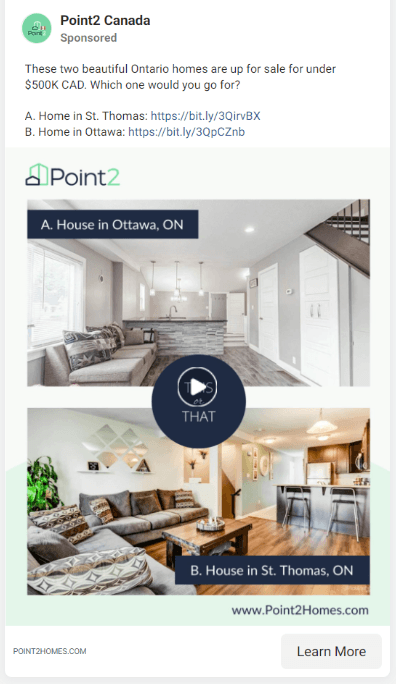 Better Homes and Gardens Real Estate
While real estate is moving more digital, it doesn't make it any less of a relationship-based business. Better Homes and Gardens Real Estate knows this, making sure to include the name and headshot of the agent selling a home in their ads. This small detail can go a long way for wary buyers who need to trust sellers.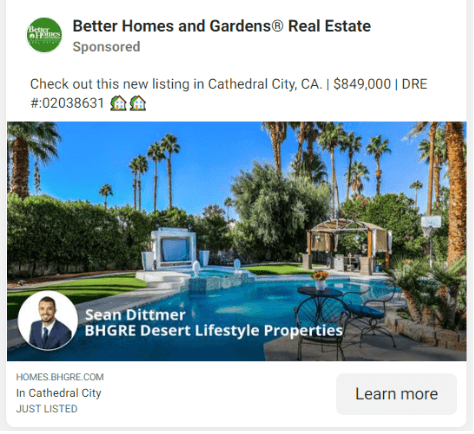 Sophie GP - ReMax
In today's digital world, people have become used to the convenience of technology. Potential buyers scroll through house listings while sitting at home on their couch. Sophie GP takes this to the next level, offering people a virtual tour of her listing. The benefit of a virtual tour is that a customer can have a sneak peek of the house at any hour of the day. While from Sophie's point of view, if a buyer is still interested in a property after a virtual tour, they must be really interested.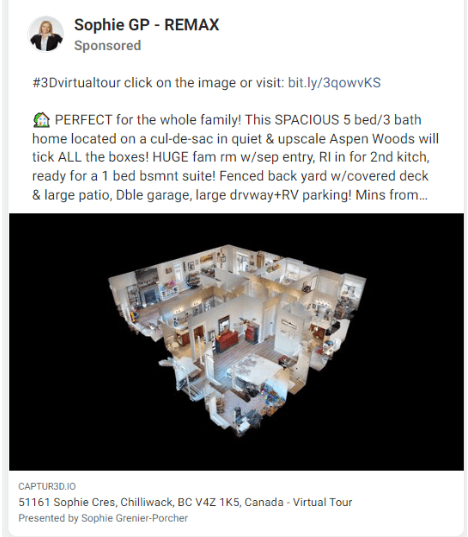 Concord Pacific - Canada
An age-old marketing tactic is to create a sense of urgency and a fear of missing out. Showing up twice in this article, Concord Pacific do just that by highlighting their sold-out units while giving buyers the opportunity to register for the next batch. Their copy and imagery also create an ad that is inspirational, inviting the users to imagine themselves using the large pool and amenities.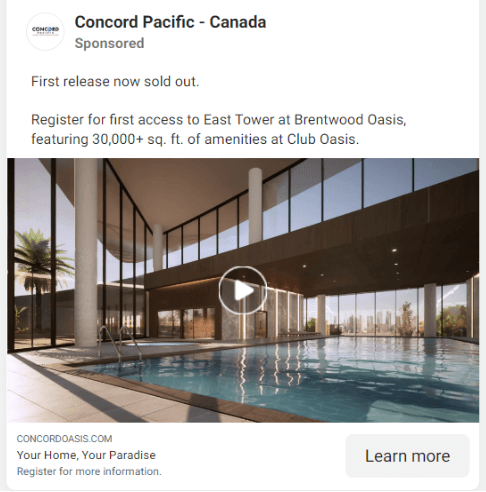 Unlock your team's creative side.
Organize ads and help your creative marketing team work more efficiently. Get started today.